Need ideas for teams to manage on FM23? Here's 10 fan-owned football clubs that could provide a great background atmosphere and a different challenge in Football Manager 2023 as you try to please your club's fans and aims to become a club legend.
With Supporters Confidence as a new feature in FM23, managing in a fan owned football club can bring about a whole different level of challenge. In Football Manager 2023, fans will play a more important role in the game than ever before.
With an higher influence over the faith of your managerial career, the supporters and fans' interests in a football club can both be of positive and negative character in your hunt for success. Not only do you need to please your board with your performances but you need to live up to the supporter's expectations relating to club vision, club culture and playing style, on top of match-to-match performance expectations.
The hard-core fans, often known as 'ultras', and the club's supporter can basically seal the faith over your club career. While they may stick with you and admire you when you are playing a brand of football that's close to the club identity, and gets results, poor on-pitch performances, bad signings or poor overall judgements in squad management and tactical micro-managing in matches can quickly lead to supporters complaining on social media feeds.
If you don't abide to the cultural and historical legacy within the club, they might loose patience if results and trophies are nowhere near their expectations – something that may eventually lead to them turning against you with supporter protests and social media riots that eventually forces the board to sack you to secure the peace.
In this event, I wanted to take a closer look at some of fan-owned football clubs available to manage on Football Manager 2023.
Taking charge of a fan-owned football club can give you a great back story to your Football Manager 2023 save. The connection between the club and its core fans brings a fantastic atmosphere and energy around match days and the club's day-to-day existence by driving the club forward with their patriotism and interest for the club's well-being.
Worth to know!
Fan-owned football clubs is traditionally most common in Spanish, Portuguese, Argentinian, Brazilian, Serbian, Slovakian, Swedish and Norwegian football with laws and regulations in place determinate which organizations and companies who can own a football club. England and a few other European nations have seen an increase of member owned clubs after clubs have been dissolved or re-founded but you have member owned clubs nearly around the entire world.
In a fan-owned club, supporters and members of the football club have an important say in the decision-making process as fans are the highest stakeholders within the club, in contrast to sugar daddy clubs run by consortium's and rich benefactors in Football Manager 2023.
In this case, I'll be looking at 10 fan-owned football clubs to manage on Football Manager 2023 by looking closer at their supporters, their chants, rivalries and potential club visions to put you in the right mood for FM23.
---
Hadjuk Split – SuperSport HNL
With the second most supporters in Croatia, Hadjuk Split rivals Dinamo Zagreb both on and off the pitch to be the most popular club in the country as well as the most successful. The spectacle of the Eternal derby is one of the biggest happenings in the season when their up against their rivals Dinamo Zagreb.
Founded in 1911, the ownership of Hadjuk Split is shared between the City of Split (65,2%) and Naš Hajduk fan association (30.12%).
By 2022, the club got over 88000 members with fan clubs all around the world, from USA in the west to Australia in the east. On Twitter, HNK Hadjuk Split got 97k followers – far behind FC Barcelona's 44.2 million but more than Dinamo Zagreb's 79,4k!
The club is made out of over 60 official supporters groups and friend societies. Within the doors of Stadion Poljud, you will find the club's ultras, known as Torcida Split, gathered at the east stand. You can hear one of their chants here. They are the oldest fan group in Europe established in 1950 by students witnessing the Brazilian fans at the 1950 World Cup and decided to create their own supporter group.
The logo of Hadjuk Split is rather iconic with a red and white checkered crest aiming to represent the Croatian flag with a blue circled ribbon around it. Their current jersey of white and blue represents the white sails on a blue sea.
It's been 16 years, or over 6200 days, since the Masters from the sea last won the Croatian Championship. Back then, they won back to back trophies and made the double, both in 2003/04 and 2004/05. In total, they have 15 Croatian and ex-Yugoslavian Championship trophies in their trophy cabinet along with 21 Cup wins including 5 Super Cup trophies.
Their best era was between 1970 and 1980 by winning 9 trophies and reaching the semi-finals of the Cup Winner's Cup 1973 – a feat their replicated in the UEFA Cup 11 years later. They have even achieved to reach the European Cup quarter finals – the last time in 194/95.
Youth development has always been close to the club's identity. A number of Croatian Internationals have come through the club's youth academy including Mario Pasalic, Nikola Vlasic, Ivan Perisic and Domagoj Bradaric. Expect to see 'Develop the best youth system in the country' as part of their long term plans and required to develop players using the club's youth system as part of their club culture in FM23.
---
SD Logroñés – Primera Federación
After CD Logroñés underwent financial problems and got dissolved in 2009, two clubs was established in the city of Logroño; Sociedad Deportiva Logroñés and UD Logroñes. Two rivaling clubs who share a common history and have the same roots, but who are run differently.
These completely different football clubs is based in the Community of La Rioja – perhaps best known for their red wine, SD Logroñés is situated in the least populated community in Spain.
The clubs slogan "put yourself in charge" or "Ponte al mando" captualizes the essence behind the club. Run democratically by its members to let their voice be heard in the management of a football club, SD Logroñés is 100% member owned. The club have 12.2K followers on Twitter and its supporter club is entitled La Gol Norte.
Playing in their traditional red and white striped kits, SD Logroñés is now in their second season in the third level of the Spanish pyramid finishing at 13th place for 2021-22 season. Their best performance to date is reaching the second round of the Copa del Rey 2012/13. However in the last three years they have been knocked out in the first round.
By taking charge of SD Logroñés on Football Manager 2023 you will be able to write history in the club. By entering the professional league system of Spain, the club has taken one step further to follow in the footsteps of CDL who participated in the La Liga for eight straight seasons.
It will definitely be a tough challenge to take on FM23!
---
Newport County A.F.C – Sky Bet League Two
When looking at fan-owned clubs in the English football pyramid I could have picked Sports Interactive's very own AFC Wimbledon. Instead, I decided to put my focus on the Welsh club Newport County.
The history of Newport County originally stretches back to 1912 when they were founded but the club got reformed in 1989, when Newport County AFC Supporters Trust took over the running of The Exiles after bankruptcy – a nickname that came about when they were forced to play their home matches 130km away from Newport. Now, they play their matches at Rodney Parade – a stadium opened in 1877, making it the second-oldest sports venue in the Football League.
At the ground you may hear the club's supporters, the Amber Army chant their anthem Come on the County and providing a wonderful atmosphere at the stand. The name of the supporter group reflects on the historical amber colors of the club's crest and jersey.
Newport County got 78.1K followers on Twitter and for only £5 a month you can become a member and have voting rights over the clubs future. Learn more here.
Since 2000, the club have climbed the ladders from the sixth tier to the Sky Bet League Two. In 2012, they made it to the final of the FA Trophy Cup being able to walk out on Wembley for the first time in the entire 100-year history of the club. What a way to celebrate their 100th anniversary, right?!
Back in the beginning of the 80s, they even qualified for the Cup Winner's Cup where they reached the quarter finals coming up against Carl Zeiss Jena. Still today, it's one of the proudest moments in the club's history.
The challenge for FM23 could be to try to overtake their main rival Cardiff. The large gap within the pyramid means a derby between the two have never been realized. Perhaps you could rise the club from ashes and make history?!
---
Danubio F.C – Primera Division
After a one-year hiatus, Danubio Futbol Club is back in the Uruguayan Primera Division. Founded by two Bulgarian born brothers 90 years ago, and given the name in reference to the Danube river – the second longest river in Europe, Danubio Fútbol Club has often stood in the shadow of Peñarol and Nacional both in terms of success and amount of supporters throughout Uruguay.
While the Uruguayan Clasico between Peñarol and Nacional is the oldest derby outside United Kingdom, the Clásico de los chicos derby is an occasion on its own as Danubio take on their most fierce rivals Defensor Sporting.
In 2017, the Uruguayan football club let the members vote on a new name for their football stadium Jardines del Hipódromo. Eventually, they agreed on María Mincheff de Lazaroff, which pays tribute to the mothers of the founders. This makes it the first football stadium to be named after a woman.
Playing in their iconic white kits with a black sash, as seen in their anniversary shirt, Danubio's crest and colours is minimalistic but easily recognized.
It's now 3040 days since Danubio last won the Primera Division – something they have achieved only four times. Can you win Danubio's fifth championship in the same year as celebrating their 90th anniversary? If so, that's an amazing achievement as they promoted from Segunda División before this season.
Youth development is also a an important part of the club's identity. A number of international stars have come through their youth academy, including Diego Forlan, Edison Cavani, Ignacio Gonzalez, José Maria Giménez, Marcelo Saracchi, Walter Gargano, and for Football Manager fans, hidden FM21 gem Nicolás Siri (18).
---
IFK Göteborg – Allsvenskan
In Sweden, there are a number of clubs with hardcore supporters aka Ultras; Djurgårdens IF, Hammarby FF, Malmø FF, AIK and IFK Göteborg are just a few. For this piece, I decided to look at a fallen giant in Sweden with a long and pride history.
The club won its first Swedish championship four years after being founded. Since then, they have been crowned champions of Sweden 14 times, with the last one coming in 2007!
The last years, the honorable club have finished around the mid-table far from their achievements in their golden era where they become the only Scandinavian football club to win one of the main UEFA tournaments. In the 80's Kamraterna (the Comrades) won the UEFA Cup on two occassions, 1982 and 1987 when Glenn Hysén, Torbjörn Nilsson and Stig Fredriksson wrote themselves into the history books.
Backed by the local supporters Änglarna (the Angels), IFK Göteborg have one of the most fierce supporters in the country with many separate supporter fractions who creates a spectacle at both their home stadium, legendary, Gamla Ullevi, as well on away trips.
When players enter the pitch, Snart skiner Poseidon" ("Soon Poseidon will shine") jumps out from the speakers, setting the tone of the atmosphere within the Stadium as nearly 18,000 spectators sing along.
With a lion on their crest, a blue and white kit, IFK Göteborg are one of the most popular football clubs in Sweden. Within the football season a number of local derbies provides a wonderful atmosphere to your save.
The match against Elfsborg, or the Västderby, the Göteborgsklassikern against GAIS, the derby against BK Häcken who is based on a small island outside Göteborg and is currently topping the Allsvenskan 2022 under Per Mathias Högmo, the derby against Örgryte, or more historical events against Hammarby IF or Djurgårdens IF, when two of the biggest Ultras face eachother.
For FM23, it will be a tough challenge to restore their glory. At the time of writing their 15 points behind, with 5 matches left to play having lost on 11 occasions. If you can fix their defensive problems, a top three position is close!
---
Skeid Fotball – Obos-ligaen
The rivalries between clubs in Oslo is fierce. Lyn, Vålerenga, Stabæk and Skeid Football are all clubs with a long and pride history with a great fan base.
Skeid was founded in 1915 and is one of few clubs with different colours between club logo (black and yellow) and kits (red and blue) – due to the merger between Kristiania BK and Fram 1914 in 1925.
While Vålerenga got one of the biggest and best TIFO shows in Norway, Skeid got a relative small supporter group. Compared to Vålerenga's supporter club Klanen (The Clan), Skeidoksene (the bulls from Skeid) has around 200 paying members compared to Klanen's more than 7000 paying members. The difference can also be seen on the number of followers on Twitter. Skeid has 4847 followers on Twitter compared to VIF's 19.8K Twitter followers.
Skeid Fotball is basically a grassroots football club with focus on youth development of kids. Their Academy have produced a number of Norwegian internationals. Daniel Braaten, Daniel Fredheim Holm, Mohammed Abdellaoui, Freddy dos Santos, Morten Berre and Dagfinn Enerly.
In terms of titles, it's been decades since their last major trophy. Skeid won the last of eight Norgesmesterskap titles in 1974. Their one and only Norwegian championship came in 1966. It's been years since they last competed in the Norwegian top division as well. After roller coasting between the first division and Tippeligaen between 1996 and 1998, the following years saw the club eventually fall down to the third division of the Norwegian football pyramid.
After promotion to the Obos-ligaen before this season, they holds the relegation play-off spot making them into a great challenge where you try to save them from relegation in Football Manager 2023.
---
Bohemians Praha 1905 – Czech Fortuna:Liga
Bohemians Praha 1905 is another fan-owned football club worth to consider due to their Ultras and hard-core supporter fractions. The Czech club was founded in 1905 as AFK Vršovice and have gone through a number of name changes until the Bohemians Supporter Trust bought 10.24% of the club's shares.
Nicknamed the Kangaroos (Klokani) due to donating two kangaroos to the Prague Zoo that they received in a tour in Australia in 1927, saw the club logo include a green kangaroo on a white background.
Besides being one of the most popular clubs in Czech Republic, Bohemians Praha 1905 have only won one Czech championship (1982/83) and one Czech Cup (1982). At the beginning of the 80s the club competed a number of times in the UEFA competitions, but never reached longer than second round.
Their supporters are known to be left-wing oriented keeping a friendship with the ultras from St. Pauli (Germany) and AS Trencin (Slovakia). Regardless of their political ideology, the fans of Bohemians 1905 uses TIFO's and flares to create a wonderful atmosphere around matches. You can watch Sektor1905 in action in this video.
In terms of the number of supporters, it's hard to predict its entire fan base but they got currently 8.5K Twitter followers.
The derby against Slavia Prague, the Vršovice Derby is one of the most prestigious derbies in the nation – only beaten by 'Derby of the Prague S' – the battle between Slavia Prague and Sparta Prague.
The most known player coming through the Bohemians 1905 academy is Antonin Panenka – best known for the penalty later known as Panenka penalty.
By managing Bohemians 1905 in FM23, the quest would be to top their previous 14, 10, 8 and 11 place from the last four seasons and make them into among the best clubs in Czech Republic by trying to overcome Sparta Prague's 12 championships. A journey that will take years!
---
Exeter City – Sky Bet League One
When AFC Wimbledon relegated from the Sky Bet League One whilst Exeter City promoted from League Two prior to this season, the club from Devon is now the fan-owned English football club highest in the pyramid.
Owned by the Exeter City Supporters' Trust since 2003 when the club relegated from the Football League to the Conference ending a 80 year stint. Now, the English club enables everyone to own a stake in the club by subscribing to their monthly memberships. For as little as £2 a month you will be able to have a say in the running of the club and participate in elections of the future board. They also got a great reach on Twitter with 85.2K followers.
Nicknamed The Grecians, Exeter was funded in 1901 as St. Sidwell's United. They have played their matches at St James Park from day one. Within their 121 year long history, the club have never played in the Premier League. In fact, they have never come closer than League One (third tier) – something they achieved when returning to League One for the first time in over a decade prior to this season.
Reaching the quarter finals of the FA Cup in 1980/81 is their best achievement to date.
This means that you will be able to write your own history at Exeter perhaps by developing the next Ollie Watkins, Ethan Ampadu, Matt Grimes or Ben Chrisene to turn Exeter into a force to be reckoned with both in the English Football League, and in European Competitions.
---
Hamburger SV – 2.Bundesliga
When thinking of football clubs in Germany with most supporters Bayern Münich and Borussia Dortmund easily comes to mind, but there are clubs with a long and pride history, such as Hamburger SV aka HSV who have made them acquire a huge fanbase around the world.
Hamburger SV's golden era in the 1970s and 80s saw the club winning 12 trophies including a European Cup Winners' Cup trophy in 1976-77. Under the leadership of legendary manager Ernst Happel, they managed to reach both the UEFA Cup final 1981-82 and regain the Bundesliga title for the fifth time. Their sixth, and currently their last Bundesliga championship was made the following season (1982-83). In a calendar year the club went on a remarkable 36 games unbeaten run – a record which stood until 2013.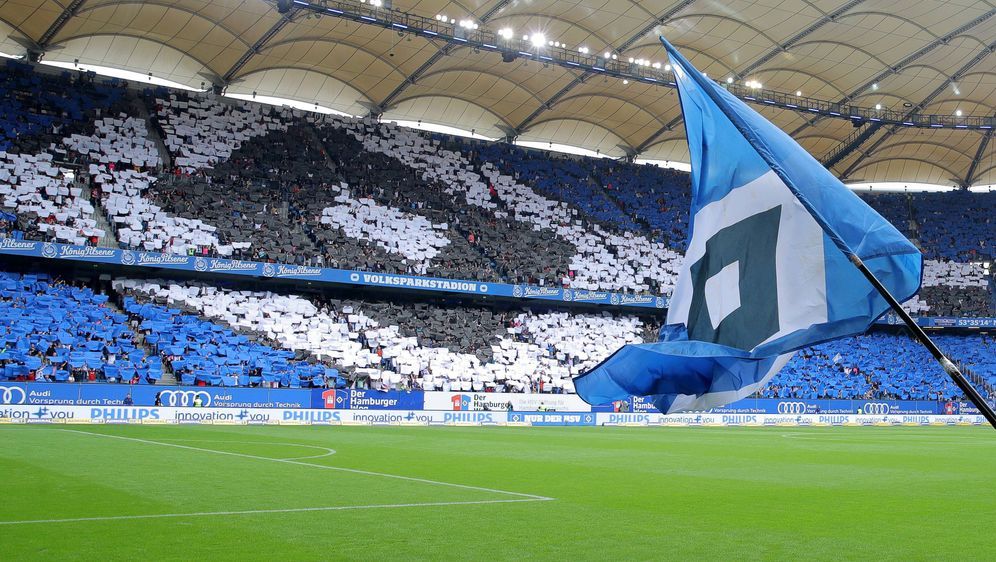 Now, it's been 35 year since HSV won heir last trophy to date – the DFB-Pokal 1986-87.
Die Rothosen has a fan base that reach globally – making them one of the most supported clubs in the world. Official supporter clubs in China, Denmark, Indonesia, Croatia, Paraguay and Thailand says it all. In total it's over 700 supporter clubs in Germany around the world.
At Twitter, they currently got 719.8K followers.
Despite playing in the 2. Bundesliga, they have a average of 48963 spectators filling the Volksparkstadion.
At match days, the player enter the pitch to their official anthem 'Mein Hamburg lieb ich sehr' providing a spectacular atmosphere with choreography, banners and chants around the Nordderby – when they face Werder Bremen or the Hamburger Derby against local rival St. Pauli.
Getting the club promoted to Bundesliga could be an easy feat… actually making them a contender for the Bundesliga title might be harder. Union Berlin currently proves that anything is possible regardless of the club's resources and size.
---
Unionistas de Salamanca – Primera Federación
When Union Deportiva Salamanca was dissolved in 1923, fans and supporters in Salamanca wanted to preserve the memory of the club by founding Unionistas de Salamanca. The Spanish team have spent the last 9 years climbing the latter from the sixth level of the Spanish pyramid to the third.
In 2019-20 the club competed in the Copa del Rey for the second time beating Deportiva La Coruña and At. Baleares on their way to the round of 32 where Real Madrid was on the opposite side of the field.
The Unionistas fan club accounts to nearly 3000 members, and for a small fee you can also own a share in a football club. A romantic dream that's made possible. Vicente del Bosque is said to be one of the members.
The club also have a number of English members with the two brothers from Staffordshire, Tony and Peter Murphy, contributing to establishing the club's fan culture and support the club financially.
Unionistas has had a steep rise through the Spanish football pyramid and topped it all last year by finishing on an 7th place – one point away from a promotion play-off place . Can you continue their success in Football Manager 2023 and turn this minor club into one of biggest clubs in the world, or at least meet Barcelona and Real Madrid in La Liga?!
Other Fan-Owned Football Clubs & Famous Ultras
FC St.Pauli
AFC Wimbledon
Shamrock Rovers
Athletic Bilbao
Wisla Krakow
Red Star Belgrade / Crvena Zvezda
River Plate
Celtic F.C
Rangers F.C.
Bury AFC
Metalist 1925 Kharkiv
Barcelona
Galatasaray
SK Rapid Wien
Pinzgau Saalfelden
These are just a collection of some of the many fan-owned football clubs eligible to manage on Football Manager 2023. Let us know who you are going to manage on FM23 in the comments below!
---
Credit: Photo used in Featured Image by Emerson Vieira on Unsplash