Import New Football Manager 2016 Graphics – Download FM16 Dark Skin Vitrex16
Besides the actual part of being a football manager, one major part of Football Manager is to improve the gaming experience by downloading graphics and other assets dedicated players throughout the community has created. Earlier we have given you the option to download Football Manager graphics such as Logo-World's logo megapack and DF11's facepack of portrait styled faces.
Today we are proud to present the first Football Manager 2016 skin presented on Passion for Football Manager new website. As always we have picked the very best for you to download. This dark skin is immediately one of my personal favorites and we hope you will embrace it as your favorite Football Manager 2016 skin too!
The Football Manager 2016 skin Vitrex16 by Fenomeno9 is a minimalistic dark skin created from the official default Football Manager skin and caters everyone who wants more information accessible right under your fingertips and a sleek layout which looks appealing.
NOTE!
The FM16 Vitrex16 skin is optimized and recommended to use for HD screen resolutions: 1920×1080 or above. Errors may occur if using at screens with lower resolutions than recommended.
More About The Football Manager 2016 Vitrex16 Skin
FM16 Vitrex16 skin is re-worked from the original skin and features some of the same main panels which you might be used to from the default FM16 skin plus a lot of new ones. The changes made are not revolutionizing at all, but the complete pack of changes makes it to a unique skin, which I'm certain you will embrace.
Football Manager 2016 skin Vitrex16 immediately grabbed my attention because of the many great improvements and changes to layout. The Vitrex16 skin got very popular for FM15 and has the potential to become the most downloaded skin for Football Manager 2016!
Now I like to take a closer look of why I like this dark skin for FM16. The changes specifically highlighted below includes, but are not limited to…:
Custom Backgrounds & Other Graphics Added
Featuring in the download is also graphics created by the author such as default 2D kits, default player profile faces for male and females visible if players don't have faces attached to their profile ID.
Another option is to select from 3 different backgrounds. You can choose which default background you like to use in the folder located under Your Documents > Football Manager 2016 > Skin > Vitrex16 > Graphics > Backgrounds
Simply rename the image to default and reload the skin to see the effect in the start menu.
New Game Layout: Menus, Profile Screens and News Items
What you will immediately notice is the default use of an icon-only sidebar menu giving you extra space for what matters the most – player information, tactical statistics and other screens important when playing the game. The compressed sidebar menu containing only icons have been re-worked and placed under the top menu, which is now a full screen menu. This means that the first item of the main menu will feature all to the left with the sidebar put below it. At first this was a bit annoying as I'm accustomed to the menu setup of the original skin since that setup is used worldwide on all programs and systems, either it's Windows 10, WordPress or whatever.
One great prospect for the creator by making the top menu full screen is to get extra space to add additional menu items in the future.
Another major improvement done to this skin is a total overhaul of a number of screens such as a better player profile screen featuring a mix of fixed tabs and select-able information tabs. With 7 select-able tabs, you will have one major tab to the right of the player profile for biography, coach and/or scout report stretching to the full height of the screen.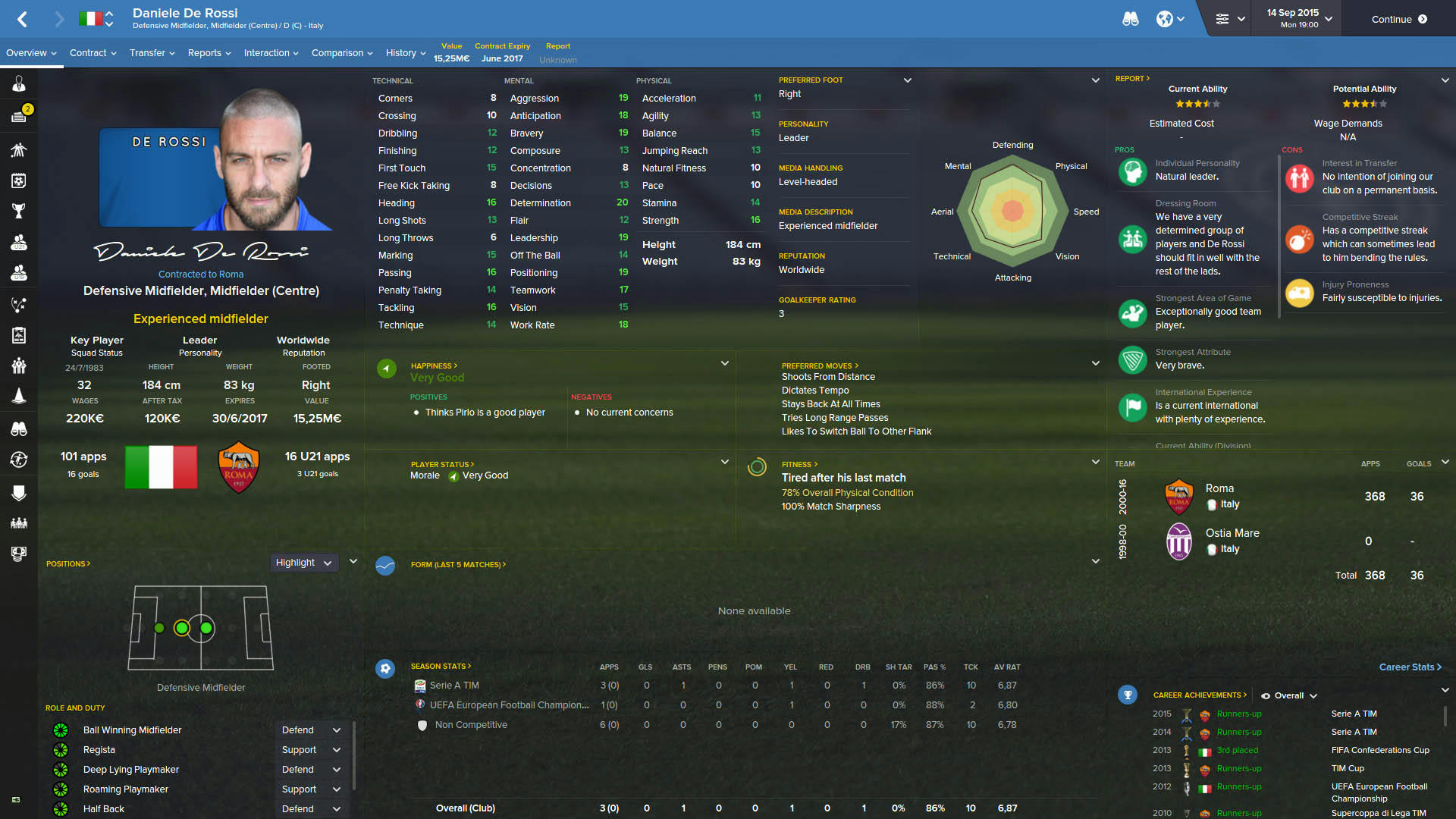 Other screens that have been overhauled and revamped is the Human Manager overview which features new personal awards and club history trophies. The revamped club overview screen has been improved massively to give you more information about the club in one screen. Here I like to mentioned the improved layout of the key employees and the extra select-able tab area from the original Football Manager skin. As you will see from the screenshot below, having 2 customizable tabs in the middle of the screen lets you get information about pending transfers, club background, affiliated clubs, contract expiry dates, finances and / or squad status in additional to information about stadium, facilities, league history, latest fixtures and honours which are displayed on fixed tabs.
In additional to the mentioned screens, there are also other minor improvements and changes to other screens, such as improved layout of several news item setups.
New Icons
By activating the Vitrex16 skin you will also notice several new icons throughout the game, for example new pros and cons icons on coach and scout reports as well as new icons on every menu; sidebar menu, top menu and main menu.
Improved Match Experience: TV Logos Added
Some of my personal favorite features of FM16 Vitrex16 skin is the addition of match TV logos and a TV logo selector for 3D matches visible in the match build-up.
The pre-match build up gives you two specific improvements;
Instant Result Button gives you the option to get the immediate result of the match. This is an option I won't recommend to use, as you will need to watch the matches carefully in order to adapt the match tactic to your opponent.
Match Ticket added
TV Logo selector for 3D matches: select from 5 different TV logos such as SkySports, Eurosport or Canal+ to mention some of the available choices.
In matches you will experience the excellent addition of new in-between match stats and highlight panels which gives you more information about your match and standings of other matches in your league or the specific tournament you're playing in. The TV logo selector is also visible in matches if you should like to swap to a different one.
The new in-betweeen highlights is displayed in full screen mode and lets you get information about body language and general match details. All in all the changes made to Vitrex16 makes it into a great skin to download.
Other Changes to FM16 Vitrex16 v1.1
Other changes to the latest version of the skin also includes the opportunity to change to an alternative layout of the skin. Here you can for example change the layout so you can see captains armband around arms of the kits or display who the captain is beside the player. The cpatains armband panel will display on the pre-match line up screen.
Other panels which can be changed and used are 4 different sidebars giving you the chance to swap between blue, green, grey or default black.
There exists a great tutorial inside the folders of the skin which you can read on how to change panels and other graphics included with this skin.
Other changes also includes:
– Inbox screen remake
– New background overlays
– New match scoreboards
– Players star rating color change
– Tactics screen now have colored position boxes
– Human manager home screen rearranged
– Several minor bugs fixed
Published: 25.11.2015
Updated: 07.12.2015
File Size: 20.03Kb
Experience the minimalistic layout and sleek design of Football Manager 2016 Vitrex16 skin. Comes with instant result button and many great panels.
Download Instructions
STEP 1: Download the skin
STEP 2: Extract the files (using either 7-Zip, WinZip or WinRar for Windows / The Unarchiver for Mac) and move the folders inside your skin folder:

Win Vista/7/8/10: C:\Users\\Documents\Sports Interactive\Football Manager 2016\skins
Win XP: C:\Documents and Settings\\My Documents\Sports Interactive\Football Manager 2016\skins
Mac OS X: /Users//Documents/Sports Interactive/Football Manager 2016/skins

Create the folder "skins" if it doesn't exist.

STEP 3: Start the game and go to Preferences screen and Interface tab.

You should see "Vitrex16" as an option in the skin drop down of the General options section.

Hit the Confirm button.
Make sure you have unticked 'Use Caching to decrease page loading time' and ticked 'Reload Skin when confirming changes in preferences'.
---
Credit & Disclaimer
A big thanks to Emil Debski aka Fenomeno9 of SIGames Forum, who have created this brilliant Football Manager skin and given us permission to publish this skin to our readers. We recommend to use the original thread at Sigames forum to contact the creator for suggestions on improvements or questions on how to alter some specific panels.
The creator also wants to thank ArtDekDok, Wannachupbrew, michaeltmurrayuk, DazS8 and TheBantams for providing assistance in the build-process and for doing a great work related to Football Manager graphics within the FM community.
Disclaimer: The current screenshots displayed above may change with newer updates and/or bug fixes. Some screens may also look different depending on your screen resolution.