THE MOST UNDERRATED PLAYERS ON FOOTBALL MANAGER 2016 COMPARED TO REAL LIFE
Speculation on Cristiano Ronaldo moving back to the premier league for the 5th season in a row, Man City buying every overpriced player there is and Jim White supplying us with the entertainment for the day – It must be the January transfer window! Transfers were flying everywhere even in the early stages of the window from Newcastle signing Jonjo Shelvey for £12 million to minuscule club Bournemouth spending £16 million in 24 hours.
The window has now closed and because the dust has settled – which means the FM database update is just around the corner! So based upon their performances late last year and throughout January, I thought that I would hand pick 8 players who should receive an upgrade or are highly underrated in Football Manager 2016 [16.2]. So without further ado – here is 8 players who should receive upgrades in the coming official Football Manager 16 winter transfer database update.
---
#8 – MATIAS VECINO
The Uruguayan centre midfielder broke into the Fiorentina first team at the start of this season after a successful loan spell at fellow Seria A team Empoli. Returning from loan Vecino has starred in the Fiorentina team with an average league rating of 7.16 this season, solidifying his spot in the centre of midfield for the Italian outfit.

His star rating does not reflect the player he is. A more appropriate rating would be 3-3 ½ stars ability with a higher potential due to his age. With his good form over the past two seasons with loan club Empoli and with his parent club Fiorentina you can expect a rise in a range of his in game stats most notably in his passing and vision with and pass success rate of 89.1% during this season so far.
#7 – JANNIK VESTERGAARD
Vestergaard is of Danish decent and towers over his opponents at 6 foot 5 inches. Playing for Werder Bremen in the Bundesliga the club has suffered poor league performances with the club sitting in 19th position. However Vestergaard has been the light shining in the dark in Bremen with the best average rating in the whole team this season 7.43. Very decent for a centre back to say the least!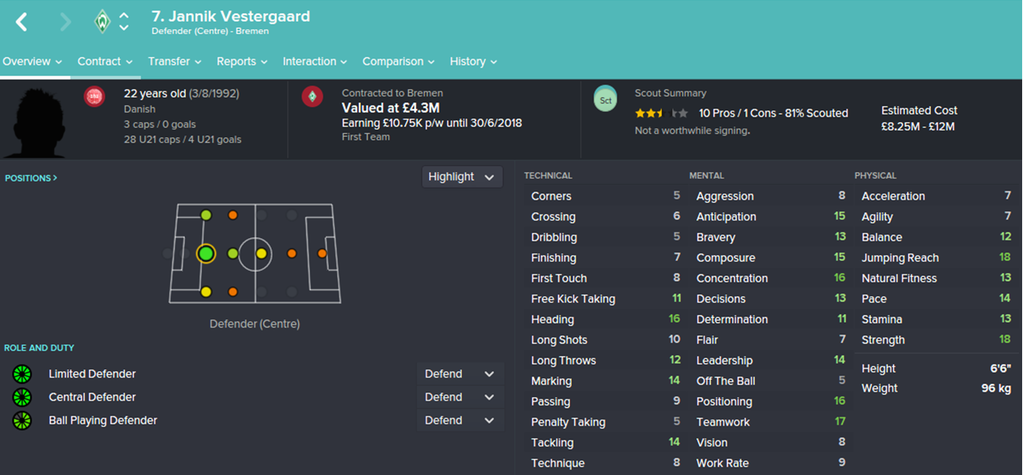 Due to his height there is no surprise that the defender has been gifted 16 heading and 18 jumping reach on the game, however with a current ability of only 2 star I feel this is slightly underrated for one of the most promising and in-form defenders in the Bundesliga this season. Despite only being 22 he also has international experience with 3 caps for his country currently which just shows his real life potential. Because of this SI should in my opinion stretch his potential to give the player a more accurate profile on the game.
#6 – ASHLEY WILLIAMS
Captain of club and country Williams, 31, has the passion and ability to sustain himself in the Premier League for years to come despite entering the latter of his career. In his 9th season at the Liberty Stadium he has been part of a struggling Swansea squad this year with manager Garry Monk being sacked in December and Swansea currently lying in the bottom half of the Premier League. A natural leader in the game Williams' real life mental traits are displayed accurately on Football Manager.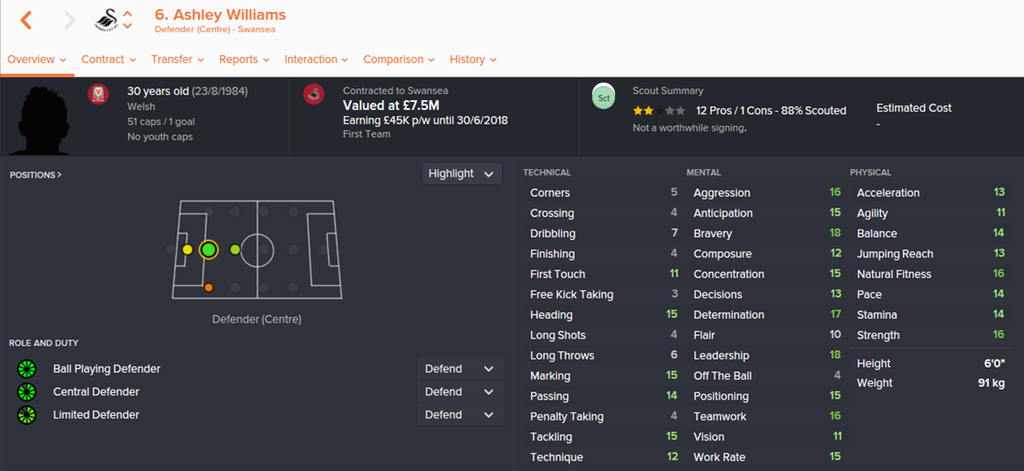 Whilst his valuation of 7.5 million might be a bit too charitable his overall ability of 2 star would shock most Swansea fans because of the centre back's proven ability in the premier league and international stage from the past few years. Most notably captaining Wales to their first ever European Championship. Maybe SI will do a double take; update and boost his ability slightly to credit Williams for his hard work during tough times at Swansea.
#5 – NICK BLACKMAN
Nick Blackman, a regular on the tip of the commentators tongue when reporting scores from the Madjeski Stadium. Averaging nearly a goal every other game he was one of the Championship top scorers over the Christmas period which earned him a £2.5 million move to Championship high flyers Derby County. Blackman's goal scoring form this season has been relatively out of character for the forward with previous seasons with Reading ending with Blackman struggling to hit double figures. However it seems he has turned a new leaf with the Macclesfield academy producing goals from all angles this time out.

With the recent move to Derby and his goal scoring form I can see his striker stats such as his finishing, composure and positioning being upgraded along with his free kicks with whoscored.com labelling him with strong free kicks. Still relatively young at 26, Blackman will be looking to break into the Premier League with Derby. Furthermore I expect his statistics to be adjusted to represent a leading championship striker.
#4 – LUCAS PEREZ
Perez signed for a permanent spell at Deportivo after a loan deal. The Spaniard cost £1.5 million in the summer transfer window. He has returned to the Spanish outfit in style with 12 goals from 19 games in an attacking midfield role averaging a 7.16 rating during the season so far.
With Lucas Perez being named as an attacking midfielder on the game it could see SI increasing his ability as a striker as 18 of his games this season in the league have been played up top. This could see his finishing and composure being increased as these stats are generally low for a Liga BBVA striker. Also being known for his long range shots, an average of 1.2 shots outside the area a game, this could see his long shots rating of 12 being increased a few levels higher. A truly underrated player in the game who has shined in the Spanish league amongst the more well known players.
#3 – RUBEN LOFTUS-CHEEK
Loftus-Cheek is as intriguing as his name at 19 years old he is seen as a future England star with the Chelsea midfielder representing the England youth teams including the u21 team. Loftus-Cheek was criticised by Mourinho for his lazy play with the now ex-manager saying the player "doesn't press, doesn't have intensity and he's waiting for everybody else to recover the ball." He replied to this with a credible display in the second half of the FA cup tie against Scunthorpe managing to get his name on the score sheet in the process.

Although he is lacking experience with only 7 first team appearances he is widely regarded as a hot prospect for England and after his display at Scunthorpe he will have gained some recognition for his ability and potential in the game. This brings me to his ability and potential in football manager which I feel is very inaccurate for a young player of his potential. He has already started games in the champions league, premier league and the league cup in a very competitive Chelsea squad at the age of 19 which shows that Chelsea highly regard him as one they want to integrate into the squad. Because of this I would encourage SI to increase his potential to a future premier league starter or even future star.
#2 – JAMIE VARDY
With 14 goals in 14 games; setting a new record for the premier league) He propelled start of season relegation candidates Leicester City to top of the table at Christmas, putting them in a great position to build upon for the rest of the season. It goes without saying that Vardy has been the stand out striker in the premier league so far, topping the goal scoring leader board and attracting interest from the premier league's biggest clubs including Chelsea and Liverpool. His stats in FM16 however tell a different story.
With a scouting report of 2 ½ star and finishing and composure at a mere 15 and 13, you can see the former Fleetwood front man was not expected to be playing at the standard he currently is. Also with 11 assists combined since last season you would expect a higher passing and crossing rating, especially as he is said to be able to play AM(R) on the game.
#1 – PIERRE-EMERICK AUBAMEYANG
Again recognised for his goal scoring ability this season, the Dortmund striker has netted 28 goals from 21 appearances in all competitions as well as clinching the African player of the year over the hands of a less than pleased Yaya Toure. The season is far from over however Aubamyeyang's efforts still can't grant Dortmund the top spot in the Bundesliga which is still currently held by last year's champions Bayern Munich.

The BVB marksman's strongest abilities lie in his finishing, key passing, pace and his ability to keep hold of the ball. In Football Manager however his finishing and composure are considerably low for a player who is top scorer in the Bundesliga. In the next update I would expect an increase in the players positioning, finishing, composure and crossing. However on recent games Aubameyang has remained the same, despite the frustration of FM fanatics who rate him highly in real life.
---
*All selections are based from personal opinion, statistics and scouting statistics from Chelsea FC. Do you agree with this selection of players? Have you discovered a hidden talent within the game? Tweet @Passion4FM and tell us all about it!